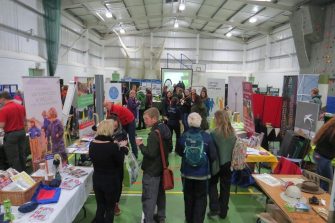 Each year we host a gathering of Teachers and Learning Outside the Classroom Providers to share ideas and inspiration to use the South Downs National Park to enhance learning.
The 2017 conference was held at Plumpton College on 29 March. Over 140 teachers and education providers enjoyed a day of presentations and workshops, with opportunities to share ideas in the marketplace throughout the day.
"Thank you SDNP – I'm going away inspired and equipped to take outdoor learning forward in my school – both practically and in terms of persuading my senior team to support it with Natural Connections' evidence." – School Teacher
"Thanks for a valuable opportunity to meet with others and share ideas and skills" – School Teacher
The Education Team at SDNP would like to thank everyone that attended the 2017 conference: key-note speakers for their excellent presentations, workshop providers for their inspirational ideas, marketplace holders for giving their time to showcase what is on offer across the park, the teachers who brought energy and enthusiasm throughout the day and the team at Plumpton College for hosting all of us.
We hope that all of you feel inspired and confident about using the South Downs in your teaching over the coming years.