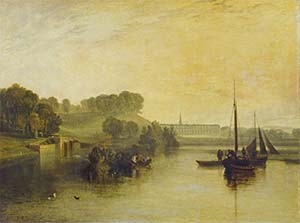 The South Downs National Park is rich in literary and artistic culture. Many famous artists have been inspired by the special landscape of the South Downs National Park with its chalk hills, river valleys and sandy heaths.
Writers of the South Downs include Jane Austen who wrote most of her novels including "Pride and Prejudice" in Chawton. More recently the writer Virginia Woolf lived at Rodmell and recorded her life there in photographs. Virginia Woolf's sister and other friends including the artist Duncan Grant, the Bloomsbury set, lived at Charleston.
Ditchling attracted communities of artists and craftspeople, including Eric Gill the lettering designer and sculptor. Ditchling Museum displays their work and explains why they came to the village.
The country houses of the great estates of Petworth and Goodwood both have exceptional collections of paintings and sculpture. Joseph Turner spent many summers in his studio at Petworth House painting the local landscape and house. The Dukes of Richmond at Goodwood collected paintings and artefacts, in the Georgian and Victorian periods, to decorate the house.
The Towner at Eastbourne has paintings, photographs and film from the last 200 years inspired by the South Downs living landscape. Pallant House Gallery in Chichester has paintings by 20th century artists such as Ivan Hitchens who painted around Midhurst. The people of the South Downs have many local traditions. The Taro Fair, a horse and cattle fair in Petersfield, was captured in the artwork of Flora Twort which are displayed at Petersfield Museum.
Many stories are captured in the folk songs of the Downs.  These tell us about people's way of life, how events affected them and show us their feelings about the Downs. Songs were passed down through families. The Copper family who were shepherds on the Downs collected the songs; they saved them and keep them alive. Famous composers such as Edward Elgar and Hubert Parry were inspired to write some of their greatest music here.
We hope that the landscape, the artists of the past and the existing artwork will continue to inspire artists to create new works of art.