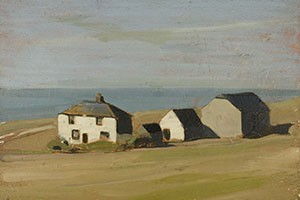 The theme for this year's school arts exhibition is Our Place, looking at artwork inspired by the historic buildings of the South Downs National Park.
The historic buildings have provided inspiration for artists over the centuries and we have selected some of the most interesting and iconic pieces from the Towner Gallery collection as inspiration for this year's project. Buildings include farmsteads, castles, lighthouses, windmills forges and cottages.
Schools across the region are invited to take part and we are delighted that this year we are able to offer additional gallery space at the Flora Twort Gallery, Petersfield and the Worthing Art Gallery and Museum thanks to a partnership with these two inspiring places.  Schools taking part in the exhibition will be able to visit artwork housed within these galleries, visit iconic buildings within the National Park or have an in-school session bringing this learning to life.
To find out more, come to one of our free launch events at
Towner, Eastbourne on Wednesday 22 October 4-6pm.
Worthing Art Gallery & Museum on Thursday 13th November 4-6pm
Flora Twort Gallery, Petersfield on Monday 17th November 4-6pm
Please RSVP to sue.hervey@townereastbourne.org.uk