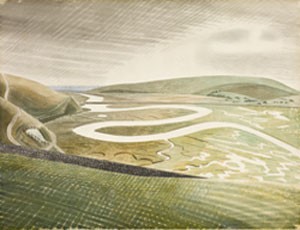 For many artists the landscape of the South Downs has provided inspiration.
Turner and Constable both visited and painted at Petworth House in the 18th century. Turner was important in the development of landscape painting because he painted the landscape as he saw it. His main subjects were the landscape around Petworth and views of the Petworth Estate, especially the views of the lake in front of the Great House.
In the early twentieth century, the unspoilt landscape of the Downs attracted some important communities of artists. The most influential groups were at Charleston (1916-1978) and Ditchling (1907-1989).
Charleston Farmhouse, now owned by the Charleston Trust was the Sussex home of the artists Vanessa Bell (1879 – 1961) and Duncan Grant (1885 – 1978). They were both highly successful artists and at the heart of the Bloomsbury group of artists, writers and intellectuals. They had a group of friends and relatives including Virginia Woolf.
Ditchling Museum is a great way to find out about artists that have made Ditchling their home, including the Ditchling Guild (1907-1989). Eric Gill, began a unique experiment in social reform, known as the Guild of St Joseph and St Dominic. It was for artists and crafts people who wanted to live a rural and religious life. In 1920, Gill came to live in the Downland village of Ditchling, as a sculptor, attracting other artists and craft makers. Ethel Mairet (1872-1952) was an earlier Ditchling artist who pioneered hand woven textiles. Charles Knight (1901-1990) is a more recent Ditchling artist. He was not part of the guild but specialised as a landscape artist and was linked to the Brighton School of Art.
Towner Art Gallery holds one of the largest collection of South Downs Landscape paintings, including the largest collection of paintings by Eric William Ravilious (1903 –1942) he was an English painter, designer, book illustrator and wood engraver Educated at Eastbourne College of Art he designed for Wedgwood between l936 and l940 and was a South Downs landscape artist.  Ravilious was an official war artist in World War II. He was sadly killed during the world war aged only 39.
More recently Harold Mockford has painted extensively drawing inspiration from the Downs, including several of the iconic Dew ponds. There are many other artists still working in the National Park today continuing to draw their inspiration from the superb and varied landscape.