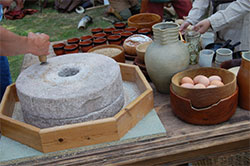 Over the last century there have been extensive archaeology records made for the Meon Valley and Old Winchester Hill. Today many of the finds can be seen in the Hampshire Archives and the Winchester Museum. The Community of the Meon Valley have played an active role in continuing this work through the Friends of Corhampton Church.
The Saxon Church at Corhampton is the only remaining Saxon building in the villages along the River Meon. However the archaeology surveys in the river valley have revealed a number of other sites including settlements or burial grounds at Meonstoke and East Meon, which were identified by the use of photography, metal detectors or resistivity surveys.
Further digs have taken place at a number of sites:
The exposure of a roman villa at Meonstoke when the road was being constructed between Meonstoke and Corhampton.
The construction of the Strawberry line or Meon Railway which exposed several Saxon burial sites at Droxford and West Meon station.
Housing developments have exposed further evidence of Saxon habitation including the site at West Meon.
These findings and the location of the river in relation to the Titchfield Port, Droxford flour mill and Winchester City and its Cathedral have meant that the Meon Valley has become an important site within the South Downs National Park to learn more about the Jute-Saxons who were recorded to have lived in the Meon Valley Provincia Meanwarorum (Province of the Meonwara) by St Bede in the 8th Century.