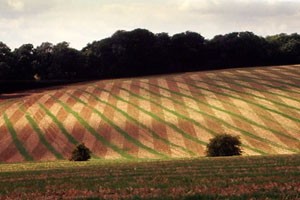 Farming and land management have changed the way the South Downs looks and is used over hundreds of years. Farming also helps to keep many of the special qualities of the park alive. Past agricultural practices have made some very valuable habitats including chalk downland and lowland heath.
The open areas of treeless downland were created and used in the Neolithic and Bronze Ages. Large areas of woodland were cleared for grazing and then agriculture as settlements were made and developed.
During the Iron Age and Roman periods this landscape was then heavily farmed.  Hill forts served as political and economic centres and later Roman villas looked after large estates.
Over hundreds of years the balance between chalk grassland, sheep grazing and arable cultivation has swung backwards and forwards depending on what is important and wanted at the time.
Hunting estates were set up as early as the Saxon period.  The parkland landscapes that can be seen today in the area today mainly come from the Georgian period.
Heathland is a landscape covered with heath and heathers and was used a lot in the Bronze age for animals that needed to graze.  Over the last hundred years this type of landscape has decreased to make way for housing, towns and farms.  However, important heathlands can still be found at Woolmer Forest in Hampshire and Woolbeding Common near Midhurst.
The woodlands, commons and the heaths of the Weald are still used for livestock and growing crops. This type of farming has only recently returned to the chalk hills, due to changes in agriculture. Many farmers and landowners are helping to conserve and improve important habitats through environmental stewardship schemes. The farming that has taken place in the South Downs National Park has greatly influenced its landscape.