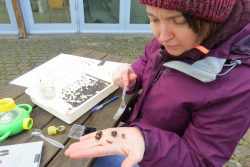 Most years we host a spring conference to share ideas and inspiration to use the South Downs National Park to enhance learning. The conference is open to primary and secondary teachers, governors and senior leaders from schools in and around the South Downs National Park.
**We are not running a conference in 2019 as Hampshire County Council and West Sussex County Council have both run outdoor learning conferences this academic year**
The 2018 conference was held at Amberley Museum & Heritage Centre on 21 March. Delegates enjoyed keynote presentations from Professor Justin Dillon "The future of learning outside the classroom and how you might be part of it" and Headteacher Matthew Dampier "Transforming a school through sense of place". Between presentations, delegates attended a range of workshops, led by expert outdoor learning providers, and enjoyed networking opportunities. Check the Resources Toolbox below for presentations and details from the conference.
Subscribe to our teachers' newsletter for notifications about future conference dates as well as termly updates about learning opportunities in the National Park.
"It was lovely to get out of school and have time and space to focus on what education should offer beyond data and paperwork" Head Teacher at 2018 Conference
"I am more motivated and confident to take learning outside the classroom. I have come away with some new, simple ideas that I know we can put in place." School Teacher at 2018 Conference