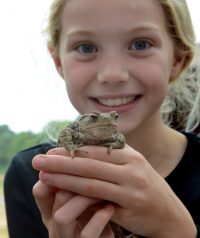 What an exciting project! The National Park Authority is working with 10 partners over the next 4 years to expand and connect the existing 1% of heathland left in the national park. New heathland learning resources produced over the next 12 months will help children learn about heathland heritage and schools in the project area are being offered support as part of tailored visits to local heathland sites.
The project area extends from Petersfield to Pulborough, north of Midhurst as far as Bordon. If you are part of a school in the project area and would like a tailored visit to your local heath this year, please email learning@southdowns.gov.uk
One of the seven special landscapes in the national park is The Wealden Greensands, characterised by wooded hills and open heaths linked by sandy, sunken lanes. Rural and remote, wild and beautiful, this is a precious haven for rare wildlife.