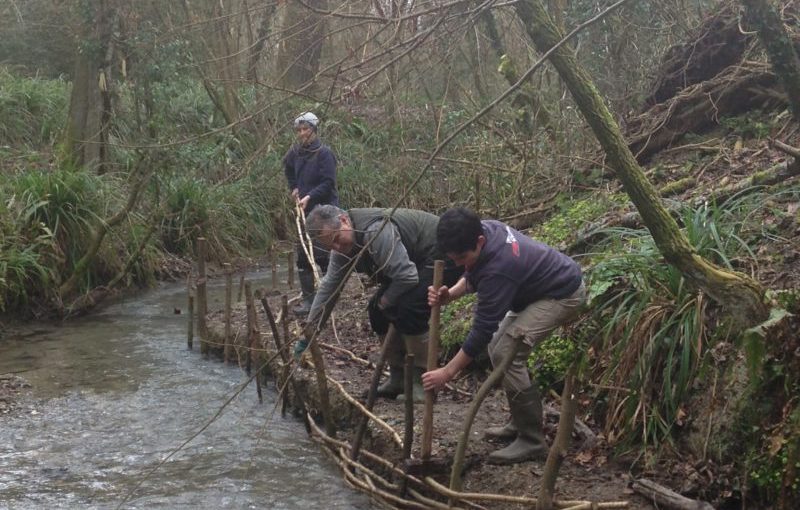 A student at Seaford College writes about his involvement in conserving the special qualities and habitats of the South Downs.
Living in the South Downs National Park, we are surrounded by beautiful countryside and anyone can play a part in protecting this wonderful corner of Britain. Six years ago, I got involved in a local conservation project, rehabilitating a chalk stream, the surrounding woodland, and meadow.
Chalk streams are rare; they are found in the UK and some parts of northern France. There are only around two hundred in the world, and the UK holds approximately 85% of the total.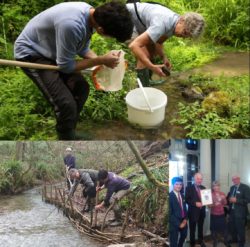 Chalk streams are associated with areas of chalk soil. The water flowing in the rivers comes from aquifers – underground stores of water. The Downs are largely made up of chalk, and therefore their aquifers provide the source for many chalk streams. As the water rises and leaves through springs, it is filtered by the chalk, leaving it slightly alkaline, gin-clear, and regulating its temperature to a cool 10°C.
These constant factors provide prime conditions for a wide range of invertebrates and aquatic plants to flourish. They are incredibly biodiverse habitats, but fragile ones, threatened by over-abstraction (irresponsible removal of water for public supply), pollution and climate change.
I first got involved in this conservation project with Botany Bay Conservancy by volunteering through the Duke of Edinburgh Award scheme. I continued to volunteer on the project, completing my Bronze and Silver Awards and the John Muir Explorer Award: designed to educate and involve participants in the conservation of wild places.
In my time with the conservancy, I have surveyed the stream through Riverfly Monitoring (http://riverflies.org); investigated the surrounding woodland with camera traps; and helped establish some wildflower areas. The project won the prize for Outstanding Contribution to Wild Trout Conservation in 2017 at the Wild Trout Trust Conservation Awards.
More recently, I have been working with students from local schools and colleges, passing on knowledge I have gained from working with the Conservancy and through courses and fieldwork which I've been able to do thanks to SDNPA, the Wild Trout Trust and Wessex Chalk Stream and Rivers Trust.
The main reason for my interest in nature is my parents, who encouraged an awareness of the natural world, building my curiosity. It is so important for parents to involve children in wildlife, in whatever capacity, so they are able to learn, explore and hopefully care for our environment.
My passion has now developed further and I am considering pursuing a career in conservation, after completing my Biology degree. The experience I gained completing the awards and working on conservation projects in the local area and further afield, helped me make this decision by testing my interest and developing my skills and knowledge in practical situations.
Never before has it been more important for us to look after our wildlife and environment. Small changes have huge impacts. If everyone makes and continues to make small changes; in whatever capacity, be it providing habitat for wildlife or inspiring young naturalists; it will make a huge difference and gather momentum.